The Florida Antique Wireless Group (FAWG)


---
The FAWG was formed in 1991 by Paul Currie and Dennis Williams and now has hundreds of members in Florida, North America and worldwide. Paul has retired to the board of advisors, and Dennis Williams passed away in October 2015. Kris Rhoades is the current chair. Kris' area of interest is vacumn tube audio equipment.
We mail a newsletter, THE FAWGHORN NEWS, and hold a swapmeet three times a year, have an annual club auction, and participate in other activities such as regional hamfests.
FAWG has no dues, but we do expect our members to attend at least one function during the year, and/or make a donation of some postage to get the newsletter out. That's all you have to do to stay on the mailing list for a year.
Call, write, or E-mail Radio Relics for more details.
---
The next FAWG activity :*
F.A.W.G. SWAP MEET AND TAIL-GATE
October 5th, 2019
ESRC tube warehouse
6424 Pinecastle Blvd.
Orlando, FL 32809
Hi Group,
FAWG meets again at ESRC Saturday October 5th, 2019. If you are new to this, see the location and contact information below. Many sellers are setting up before sunup, so buyers and lookers should be early. The meet is tailgate style, so bring tables or work out of a vehicle or just use the parking lot. There is no setup fee for sellers and no entry fee for lookers, but we do accept donations for postage, flyers, etc.
Stan Winston of ESRC provides coffee, donuts and soft drinks at the entrance of his warehouse. Be sure to go in and check out the millions of tubes and other goodies.
Be sure to get together the unwanted radio gear you have been tripping over in your garage and donate it to FAWG. We will trade it or sell it for best offer to the general fund. So go to bed early friday, get up with the chickens saturday and join us.
Stay tuned!
All contact information for the meet is below. Call or email for any other information. Stay tuned!
MAPQUEST has the ESRC address pinpointed if you want to check that. Kris Rhoades, Radio Relics
400 George St.
Winter Springs, FL 32708
(407) 375-7868
kraudio1@outlook.com
Kris Rhoades, Co-chair
407-375-7868
Stan Winston
ESRC tube warehouse
6424 Pinecastle Blvd.
Suite D
Orlando, FL 32809
(407) 826-5808
esrc1@aol.com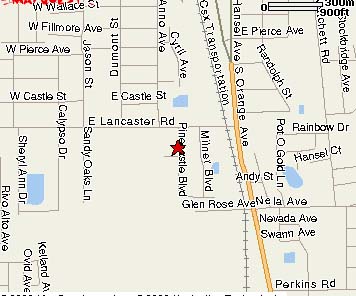 Click to view map online.
For additional information, call Radio Relics at (407) 375-7868, or email Kris.
Kris Rhoades, FAWG Chair and FAWGHORN editor
Details of these and other activities may be found in the FAWGHORN Newsletter.
If you are not on the mailing list and wish to be, send your mailing address to: 400 George St., Winter Springs, FL 32708
(407) 375-7868
You can call or email as well. Get in touch !
---
Call, write, or E-mail for more information about these events.
*Keep checking back for up-to-date information on FAWG!
---
---
400 George St.
Winter Springs, FL 32708
(407) 375-7868
kraudio1@outlook.com